It's all about your dog!
At DogWatch of Nashville, we run a very "family type" personalized business, focusing on protecting your pets. We take pride in our decades of experience and growing our satisfied customer base through the best kind of advertising: "word of mouth" referrals.

We are proud to represent the DogWatch brand in the Nashville area. The DogWatch Hidden Fence has been recognized as a Consumers Digest 'Best Buy' in each of the five reviews of underground pet-containment systems conducted since 1998. Additionally, DogWatch is the only hidden fence company that uses a patented SafeLink FM radio signal to protect your pet. It is the safest system you can buy.

DogWatch has been serving the greater Nashville area including the counties of Davidson, Williamson, Wilson, Maury, Sumner, Rutherford, Montgomery, Dickson, and Cheatham for almost 21 years.


Our unique "Pet Friendly" technology, two-year battery life and personal attention to detail continues to outpace the competition. Simply stated, DogWatch offers the best product and the best service at the best price. Before you buy elsewhere, call us for a free estimate.

DogWatch of Nashville is owned and operated by Ryan and Amberly Betz.

"We've trained thousands of dogs to stay safely in their yards. Give us a call today to learn more about DogWatch . . . simply the best, no getting around it!"

. . . and don't forget to checkout the rest of the DogWatch website to learn more about DogWatch products!
Service Area
We provide services to customers in the Middle Tennessee area, including the towns and cities of Brentwood, Franklin, Gallatin, Hendersonville, Lebanon, Mt. Juliet ,Nashville, Spring Hill and surrounding cities. , Tennessee and the surrounding area.
Get a Free In-Yard Estimate!
Our representatives will meet you at your home for a free in-yard estimate. We will help assess your needs and customize a solution that suits both you and your pet. Call today or schedule an appointment to get things started!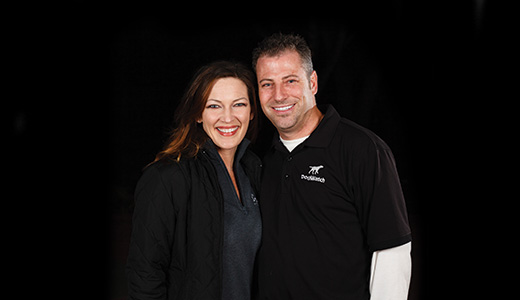 Why Choose DogWatch of Nashville?
1. Our number one concern is the safety and well-being of your pet. We provide the support you need to ensure successful training and happy containment.
2. We provide a proven PetFriendly™ training program. We train your dog (or cat) to recognize the boundary flags and the audible warning signal (or vibration) before introducing the correction.
3. We are experienced professionals committed to providing excellent customer service and support. We strive to service every customer promptly and courteously.
We want to hear about your experience! Write us a review on Google+
Simply the best. No getting around it.™
Another reason to choose DogWatch of Nashville is that we are an authorized DogWatch dealership. The DogWatch Hidden Fence is the most technologically advanced and the easiest to use, and it is backed up by a no-hassle Lifetime Warranty from a company with more than 25 years of keeping pets happy and safe.

What makes us Simply The Best?
---
Customer Testimonial

"DogWatch Hidden Fences has been a friend to Happy Tales Humane since 2001 . . . We couldn't be more pleased with the association. Our customers have commented on both the overall professionalism and excellent customer service found at DogWatch."


Kat H. – Executive Director, Happy Tales Humane – Franklin, TN